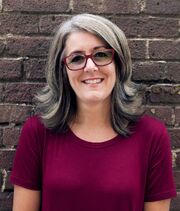 Ashley Postlewaite is one of the co-founders and heads of Renegade Animation.
Ashley is a graduate of Stanford University and began her career in the glamorous world of children's theater. She got her start in animation with Warner Bros. Classic Animation and in 1992, joined Darrell Van Citters in founding Renegade Animation. Ashley has produced animation for feature films, television, commercials, DVDs and a variety of new media applications and serves as Executive Producer for all of Renegade's output, including Invader Zim: Enter the Florpus.
She is also a past board member and president of the Young Entrepreneurs Organization, an international association of business leaders who have achieved success at a young age.