The Diamond Select figure series is an upcoming line of figures produced by the Diamond Select toy company and scheduled for release in mid 2021, so far four items have been announced including one statue style gallery figure and a series of action figure multipacks. This line sports an illustrative look with black lines painted where they would be in the show, such as around the eyes, making the finished product look like a still from the show
Gallery Figures
These figures depict a self-contained scene and are entirely stationary, so far only one has been announced.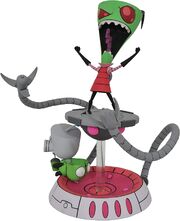 Zim Triumphant: This figure features Zim laughing maniacally while standing on a "levitating" platform (held up by a clear plastic pole) with robotic tentacles snaking from the lower stand, where Gir is quietly drinking a slushy. The figure was first announced for release in 2020, however production delays caused by the corona virus pandemic resulted in the release date being moved to mid 2021.
Multipack Figures
The first wave of multipack figures is scheduled to release in summer of 2021 and consists of three sets containing two figures each, along with a few accessories; the series includes two figures of Zim & Gir (one with a disguise and one without), and one figure each of Dib & Gaz. As stores list this as Wave 1, it is likely that further sets are planned.

Wave 1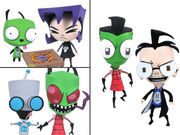 Undisguised Zim & Gir, includes toilet, robot bee, and robot gopher.
Dib & disguised Zim, includes Mini Moose, one lawn gnome, Dib's briefcase, camera, and laptop, and the auxiliary hall pass.
Gaz & disguised Gir, includes stack of waffles, Bloaty's pizza box, Gir's toy pig & monkey, and three of Gaz's attack robots.