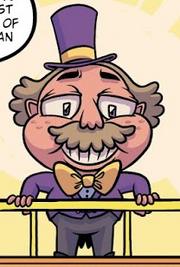 Doolan Dilby is a human character who appears in Issue 36 of the Invader Zim comic series.
Summary
Doolan Dilby was the founder, owner, and operator of the Dilby Sweet Company, beloved by children for all his hard work in creating great candy. However, he became so obsessed with creating more perfect candy that he started experimenting with forbidden forms of sweets. This eventually led to an accident that transformed him into a giant conglomeration of candy known as Candyclops, after which he was secluded in his office and the factory was shut down.
Over the next two months, a group of candy-obsessed children took over the abandoned factory, worshipping Candyclops. When Zim and GIR break into the factory, falsely believing that the candy has mind control abilities, the children take them to Candyclops and declare that for their trespassing, they must feast on his candy flesh for eternity.
While Zim is rendered sick from being force-fed the candy, GIR soon consumes Candyclops entirely. This leads to him being declared the new Candyclops.
Facts of Doom
Dilby appears to be a parody of Willy Wonka.
It's unknown if Dilby was still alive or aware as Candyclops.