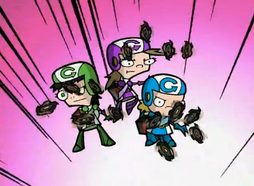 Girly Rangers
are an organization that made their first appearance in "
The Girl Who Cried Gnome
". They are a cross of the Girl Scouts of America, and
Power Rangers
. They also appeared in the
Invader Zim comic series
, once in
Issue 4
and again in
Issue 17
.
Notable Rangers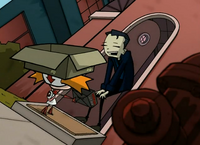 The most infamous of Girly Rangers is
Moofy
, who resorts to violence when citizens refuse to purchase the various types of cookies that Girly Rangers advertise. She rose to notoriety when her right foot got stuck in a hole in
Zim
's front lawn, spawning a brief but intense media circus.
One particular Girly Ranger, Greg, resembles a grown man, and has the strength of about a thousand. She appeared in "The Girl Who Cried Gnome".
An African-American girly ranger also appears in the Invader Zim comic series in Issue 4, as a victim of Zim's security system and paranoia.
Appearance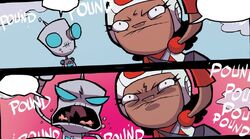 Girls who are a part of Girly Rangers seem to have different-colored uniforms (such as red, blue, purple, yellow, and green) that may or may not be related to rank in the organization. Three other Rangers have displayed ninja-like abilities upon attacking Dib, using their cookies as ninja stars.
Appearances
Facts of Doom
Community content is available under
CC-BY-SA
unless otherwise noted.