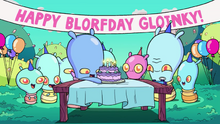 Gloinky was a small alien child shown to about to celebrate his Blorfday (birthday) during one scene in Invader Zim: Enter the Florpus.
He was about to blow out the candles on the cake before Zim and Dib jumped on the tiny aliens' homeworld and ran on it, causing a hurricane that destroyed the celebration, causing panic and presumably killing everyone at the celebration.
Despite this chaos, Gloinky had a few bites of his cake before being dragged away by the wind.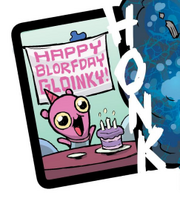 Gloinky later appears in the final issue of the comic series as part of the montage of people being caught up in the time loop. Interestingly, he appears to again be celebrating his Blorfday,
This would imply that he and his family survived the Florpus and that at least a year has passed since his last party. Interestingly, he seems to be the only one getting caught in the loop, who will forever be having a happy time.