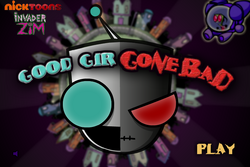 Good GIR Gone Bad is a online flash game that was formerly hosted by Nicktoons.com until its shutdown in 2016. The game was not moved to Nick.com.
Objective
The goal of the game is to make GIR catch up to Dib by rapidly clicking while also trying to collect wrenches and avoiding Dib's laser shots.
Once getting all the wrenches needed and getting close to Dib, GIR will attack and a new level starts with a slightly higher difficulty each time.
Controls
Space-Bar – Jump
Rapid Click – Run Faster
External Links