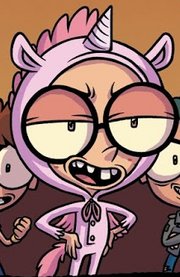 Gurmy is a character who first appears in Issue 36 of the Invader Zim comic series.
Summary
Gurmy is a human child who was a huge fan of Dilby Sweets Company candy, having gone on many tours of their factory. After the company's owner Doolan Dilby accidentally turned himself into the living mound of candy called Candyclops, leading to the shutdown of the factory, Gurmy broke into the abandoned building to find out why it had been closed. Discovering Candyclops somehow led Gurmy to then founding a group of fellow candy obsessed children called the Children of Nougat which lived in the factory and worshipped Candyclops.
Two months after this all happened, Zim and GIR come to the factory, searching for the secrets of the mind control serum Zim has convinced himself is in the candy. The Children of Nougat view this as trespassing on their territory and attack the pair, taking them prisoner. Gurmy proceeds to tell them his story while having them dragged to Candyclops, where he declares that their punishment will be to feast on its candy flesh forever.
While Zim is rendered sick by this, GIR ends up quickly devouring all of Candyclops, becoming huge and bloated. Gurmy happily declares him the new Candyclops, with him now being worshipped by the Children of Nougat.
Facts of Doom
Gurmy wears a pink unicorn costume.