Hot Topic is an American retail chain specializing in music and punk/rock culture-related clothing and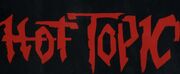 accessories, as well as licensed music on CD. As of April 2008, Hot Topic had 688 locations in the United States, six stores in Puerto Rico, and two in Canada. The majority of the stores are located in regional shopping malls. They have a lot of fan-club brands, Lady GaGa, Mario, Invader ZIM, etc.
Read More: Hot Topic on Wikipedia
Invader Zim Products
Action Figures
T-shirts
Rubber Bands
Lanyards
Hoodies
Product assortment and sales
Approximately 30% of Hot Topic's revenue comes from sales of licensed band t-shirts. Hot Topic often negotiates exclusive licensing arrangements with musical artists, movie studios, and graphic artists. Fashion apparel for men and women is featured prominently in stores, with products from Lip Service, Morbid Threads, Disney, Sanrio, Psychopathic Records, Social Collision, Heartcore Clothing, Iron Fist, Nintendo, Nickelodeon, Web celebrities, Invader Zim, Hopeless Records, Harry Potter, Doctor Who, Hip-Hop, and more recently, Twilight, Adventure Time and Alice in Wonderland merchandise.
Up to 50% of Hot Topic's sales are generated by accessories, including sunglasses, private-label body jewelry, hosiery, makeup, licensed music artist stickers and other miscellaneous pop-culture items. Accessories generate the most significant amount of profit for the company. Hot Topic drives the profit margin by the use of cross merchandising and suggestive selling.
Websites
In 2008, Hot Topic launched ShockHound, an online retailer and social networking music site. The site features music downloads, interviews and exclusive content. Hot Topic's original website, hottopic.com, was launched in 1997, and ships products to approximately 100 countries.
Hot Topic's European website launched in April 2010.
International Expansion
In August 2010, Hot Topic opened two new stores in Canada, which also marked the chain's first two international outlets. The first store opened on August 11th at Square One Shopping Centre in Mississauga, Ontario, and then at Scarborough Town Centre in Toronto, Ontario the following day.