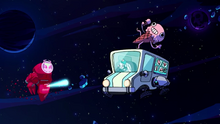 The Ice Cream Robot is a minor character that briefly appeared In the film Invader Zim: Enter the Florpus.
The Ice Cream Robot traveled the universe in a spaceship resembling an ice cream truck. It resembles a taller version of GIR, with a similar face, but with a hunched back similar to Sizz-Lorr, hinting it was possibly made by the Irkens. Given Irkens, especially the Tallest's love for snacks, it's not unlikely. The robot and its ship were ordered to be blown up by Tallest Purple as it was passing by the Massive.
The robot's design may be a nod to GIR's initially planned origins as a frozen yogurt dispenser from the pitch bible.