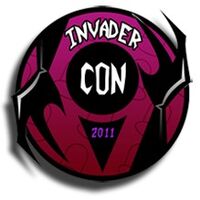 InvaderCON is a fan convention organized by Green Mustard Entertainment, Inc. designed to be a 10th anniversary celebration for Invader Zim. It took place on March 26 and 27 in Atlanta, Georgia. Guests included Richard Horvitz, Rosearik Rikki Simons, Melissa Fahn, Andy Berman, and Eric Trueheart.
One dollar of each ticket went the to Juvenile Diabetes Research Foundation. The choice of charity was selected by Horvitz, who was one of the first to be booked as a guest.
The convention had over a thousand in attendance, and featured many Invader Zim-related panels and activities. It was confirmed that a few representatives of Nickelodeon attended to observe the turnout and were quoted as being "overwhelmed"[1].
This convention was not endorsed, sanctioned or any other way supported, directly or indirectly, by Viacom International, Inc. or Nickelodeon.
After the success of the event in March 2011, the convention's team has announced an encore event. InvaderCON II: DOOMCON had took place from July 28 and 29 in Los Angeles, California. InvaderCON's website has also confirmed that all the previous special guests are attending, in addition to Jhonen Vasquez, the creator of Invader Zim.
The idea of InvaderCON III: Final Doom will be considered if the Green Mustard Facebook page gets 10,000 likes. If acquired, the convention will most likely happen in the summer of 2014; this gives fans much more time to prepare for the event. The Kickstarter meeting for the event took place on April 30, 2013.[2] While it failed to reach its goal by $7,000, the second Kickstarter surpassed its goal, so it is safe to assume that things should carry on as planned.[3]
In February 2016, news of another InvaderCON were discussed on Twitter, though nothing is confirmed as of yet.[4] On April 7, 2017, a poll was uploaded to the InvaderCON Twitter page, discussing the potential location to hold the event. The highest rated location is Orlando, Florida, at 33%.[5]
References
Community content is available under
CC-BY-SA
unless otherwise noted.