---
We currently have 833 articles about Earth's impending doom.

Would you like to help Invader ZIM get back on air as a full fledged animated TV series again?
Then visit any or all of these links!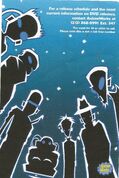 The Swollen Eyeball Network
is an organization of conspiracy theorists and paranormal investigators.
Dib
is an active member of the group.

Affiliated Wikis

Thoughts on Invader ZIM: Enter the Florpus! shifting its release to Netflix?