'Invader ZIM: Enter the Florpus' San Diego Comic-Con 2018 Trailer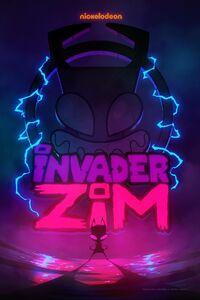 Invader Zim: Enter the Florpus! is an upcoming 71-minute television film based off of the Invader Zim TV series, set to premiere in August 2019.[1] The film will be released on Netflix, after its distribution rights were sold to the streaming service by Nickelodeon.
Announcement
On April 4th, 2017, over sixteen years since the series' original premiere and eleven years since the last unaired episode was premiered in the US, Nickelodeon officially announced that Invader Zim would be brought back for a made for television original movie. As of now the plot and release date are unknown, but four of the main voice actors are confirmed to be returning. Richard Horvitz as Zim, Rikki Simons as GIR, Andy Berman as Dib, and Melissa Fahn as Gaz. Nick also announced that series creator Jhonen Vasquez would be involved in the project, serving as an executive producer as well as reprising his role as Computer.[2] It is currently unknown if there are more voice actors set to return since other castings not been officially released.
The three announcement trailers can be found here (first), here (second) and here (third) (or down below in the videos section under teasers).
A little over a year later on June 26, 2018, the movie's title was announced, along with a statement that the film would have a panel on July 20th at San Diego Comic-Con. Exclusive behind-the-scenes art and sneak preview footage was released immediately after the panel ended.[3]
On May 10, 2019, Viacom announced that the distribution rights to the movie had been sold to Netflix.[4] A day later, Netflix's NX account on Twitter confirmed that the movie would be released in Summer of 2019.
On July 13, 2019, at Atlanta Comic Con, Richard Horvitz announced that the movie would be released at some point in August.[5]
Plot
When Zim suddenly reappears to begin Phase 2 of his evil alien plan to conquer Earth, his longtime nemesis Dib sets out to unmask him once and for all.[6]
Voice cast
Trivia
The current plot summary on Netflix is significantly different from the one originally released at SDCC.

"Zim falls into a depression after he's abandoned by his idols, the Almighty Tallest, leaving an opening for his enemy Dib to finally expose him as an alien."[7]

The existence of the movie was first revealed by Harvey Beaks creator C.H. Greenblatt on November 8th, 2016. Vasquez initially denied the existence of the film, dismissing it as "a rumour".[8]

It is likely that Vasquez was under an non-disclosure contract with Nickelodeon at the time and was forced to dismiss it.

Kevin McDonald confirmed on Twitter that the original cast of Invader Zim were going to record lines, so it is apparent more characters are set to appear in the film.[9]
JR Goldberg of the Invader Zim comic book series confirmed she was also involved in this project. It was later found out should would be the Art Director of the film.[10]
The movie's storyboards and concept art were outsourced to a South Korea studio named Maven Animation Studio.[11] Previously, animation services for the television series was mainly produced by Sunwoo Entertainment.
Olivia D' Abo stated on her Twitter she was excited for the Invader Zim movie. Nickelodeon Press announced on July 20th in an article that she would reprise her role as Tak.[12][13]
The Irken symbol has been redesigned.
Despite overwhelming fan demand, it is unknown if the show will be brought back on the air after the movie's premiere. However,

Olivia D'Abo mentioned a "new Invader Zim series" on her Twitter. However, she could just be referring to the comic series.

[14]
It is currently unknown if Invader Skoodge is set to appear in the television movie, but some have speculated that the refusal by Nickelodeon to use him in the comics has been because they've been saving him for the movie.
It is unclear if Ms. Bitters will be in the movie, due to the death of Lucille Bliss in 2012, unless they hire a new voice actress to fill her role.

It is possible that Candi Milo might replace her as an understudy, as she has voiced the character previously on the 2008 video game Nicktoons: Globs of Doom due to Bliss' poor health.

Footage from the teaser trailer suggests that the movie is at least partially an adaptation of the first issue of the comic series.
Originally, network executives wanted Zim back as a full fledged TV series revival when they contacted Vasquez. He took into consideration the amount of time and work doing a TV series again would put on him and crew members, and instead suggested that the series come back as an 6 episode miniseries, which they agreed to. Vasquez later shortened his suggestion to just one long episode (TV movie) when he got back into contact with executives and they obliged once more.[15]
At the SDCC panel, Vasquez explained that the teaser they presented only showed completed shots of animation and that some of the teaser scenes were going back to be re-animated and may look different when the final product releases.
As of January 31, 2019, the entire film is completed and was fully screened for the film's entire cast and crew at Nickelodeon Animation Studios in Burbank, California.[16]
Originally, it was widely known that the runtime was 66 minutes. When its page showed up on Netflix, it was listed with a 70 minute runtime, then updated to 71 minutes sometime after. It is speculated by some that around 4 minutes worth of deleted scenes/content was added back into the movie due to it not having to fit into a TV timeslot anymore.

The extra minute added later could very likely be Netflix's add-in after credits, shown after the entire movie is finished.
Videos
Trailers
Promotional/Other
Photo Gallery
See also
References
Community content is available under
CC-BY-SA
unless otherwise noted.