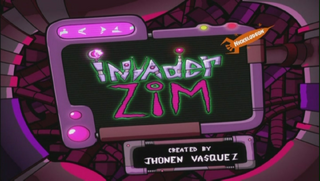 Invader Zim, often branded as Invader ZIM, is an American animated television series that was produced by and subsequently aired on Nickelodeon.
Summary
The series is centered around an egotistical, clueless Irken Invader named Zim who constantly and futilely attempts to conquer and destroy Earth, a more satirical version of the real world set in the distant future. Zim's schemes are usually foiled by Dib Membrane, an aspiring paranormal investigator who takes the Earth's protection into his own hands. Dib is among the few people who sees through Zim's disguise.
The show has no clear distinction of a protagonist or antagonist, and instead emphasized one's ability to empathize with Zim and Dib's lack of competence and vindication respectively. First broadcast on March 30, 2001, Nickelodeon had initially desired a block of 'edgy' programming for their older demographic when Invader Zim was green lighted. Invader Zim was the only show that could fit such a block, leaving the series hard to place in an appropriate time slot suitable for their typical demographic.
It was intended for audiences in their early teens but was instead viewed more by older audiences, usually college-aged audiences and fans of Jhonen's previous works. Consequently, the ratings were not high enough for the expenses put into the show. As Nickelodeon was spending more money on airing and producing Invader Zim than any other show, it was cancelled in January 2002 and one of the last finished episodes aired on December 10 the same year.
The remaining finished episodes first aired in European and South American territories in 2003 and were eventually released stateside via DVD by Media Blasters in 2004. Media Blasters' DVDs contained several bonus features, like the Pilot and bits and pieces from the unfinished episodes.
Like most other Nickelodeon cartoons, Invader Zim is a traditionally 2D-animated television show. However, cel-shaded 3D models and animation is sometimes used, mostly for the more elaborate space-battle scenes, best seen in "Battle of the Planets." The series has a unique, angular animation style typical of Jhonen's earlier comic book titles, which was updated and improved in the second season.
Because of its continued fan-base and above-average DVD sales since series production ended, various observers have labeled Invader Zim a cult hit. The show can currently be seen in syndication on Nicktoons, which has had the first six completed season two episodes in its rotation in the United States since the summer of 2006. In Canada, YTV began airing the series on its Bionix programming block starting with September 8, 2006. MTV 2 only aired a few Invader Zim episodes in June 2006 during a week of Nicktoons episodes for their Sic'emation block.
The series has also been translated into several different languages (including French, German, Italian, Japanese, Portuguese and Spanish) for foreign broadcast in more recent times. Reruns returned to the Nicktoons Network on September 8, 2008, but stopped after several weeks.
In March 2010, Invader Zim returned to Nicktoons Network for a month of reruns. This, as well as a new flash game on Nicktoons' website accompanied with an inquiry about interest in more Zim from the sites' forum admin, brought forth speculation that Nickelodeon was testing the waters for more Invader Zim episodes. On June 21, 2010, Nickelodeon began rerunning Invader Zim on Nicktoons. The first week continued at this time, then stopped. It started up again July 5 at 10:00pm Mon.-Thur. and ended the last Thursday in July.
Series creator Jhonen Vasquez confirms in his blog that, contrary to popular belief, he "would have loved" to return to the show and that Nickelodeon indeed was testing the waters for more Zim but subsequently deemed a revival "too expensive".[1]
Nickelodeon released a "greatest hits" DVD titled Operation Doom on February 22, 2011. It is unconfirmed by any public released statements, but it is highly likely this bare-bones DVD was released in response to the greeting card mailing campaign orchestrated by Operation: Head Pigeons on December 2010.
On March 2011, the first convention entirely dedicated to Invader Zim, titled InvaderCON, was held in Atlanta, GA to celebrate the series ten-year anniversary.
It featured special guests cast members Richard Steven Horvitz, Rosearik Rikki Simons, Andy Berman, Melissa Fahn, and writer Eric Trueheart. Originally slated to appear was color director Jean-Paul Bondy and fansite Room With A Moose's admin team. Also noteworthy was the Operation Head Pigeons admin's panel that was rescheduled to a prime time scheduling towards the final week of preparation.
On September 1, 2011, Nicktoons aired a 24-hour marathon as part of "Nicktoons: 24 Hour Marathon-athon." During which, Nickelodeon's official Twitter account acknowledged the fan-driven revival campaign Operation: Head Pigeons.[2]
On December 10, 2011, Nicktoons was set to air the Pilot on television for the first time as a part of an afternoon holiday block, but then subsequently rescheduled it to December 24, 2011 as its own event during prime-time hours after an eight hour marathon and followed by the result of their online "Girreatest Zim Moments" poll.
By popular demand, Green Mustard Entertainment announced a second InvaderCON, even though they stated that the first one in Atlanta would be the only InvaderCON that would be organized. Previous guests return (with Andy Berman in limited capacity) but also joined by Jhonen Vasquez as a rare convention appearance and character designer Aaron Alexovich.
An invitation was also extended to Olivia d'Abo, the voice of the widely popular yet small-role character Tak, although she had to decline. It is of note that fan production group Soapy Waffles arranged the premiere of their "Mopiness of Doom" project there and that Operation Head Pigeons had their own panels and booths.
On November 8, 2016, Harvey Beaks creator C.H. Greenblatt stated on his Tumblr page that Invader Zim creator Jhonen Vazquez was working on a movie based off the series in a reply to one of his followers. However, Jhonen initially denied this on his twitter. But on April 4, 2017, Nickelodeon confirmed that an Invader Zim television film was in the works with Jhonen Vasquez involved and all the main character leads returning to reprise their roles.
On May 10, 2019, Viacom announced that the distribution rights for the film had been sold to Netflix, who announced three days later that they intended a release date sometime in Summer 2019. The movie was finally released on August 16th, 2019, with the title Invader Zim: Enter the Florpus.
In December 2020, the series was released on the CBS All Access streaming service (which in early 2021 changed its name to Paramount +).
Synopsis
Invader Zim revolves around the life of its title character Zim, and the humans who are unaware of his true alias. Zim is a member of the imperialistic Irken race, an extraterrestrial species whose social hierarchy is based on height.
The Irken leaders, known as the Almighty Tallest, are named Red and Purple who rule the Irken empire together as both are the same height. As recounted during the series premiere "The Nightmare Begins," Zim, who is both very short and very naive, was banished to Foodcourtia for overzealously attacking his own planet and allies during Operation Impending Doom I.
Upon hearing of Operation Impending Doom II, Zim arrives at the Great Assigning. Irken Elite soldiers are chosen to become Invaders; "special" soldiers whose mission is to blend in with the indigenous life forms of their assigned planet, collect intelligence, and prepare the planet for conquest by the Irken Armada.
Zim pleads with the Tallest to assign him a planet, and in a desperate act to get Zim as far away as possible, they assign him to a presumed planet on the outskirts of their known universe that has never been explored. This "Mystery Planet" is Earth, and Zim's erratic attempts at world domination and the eradication of the human race begins.
Intro Sequence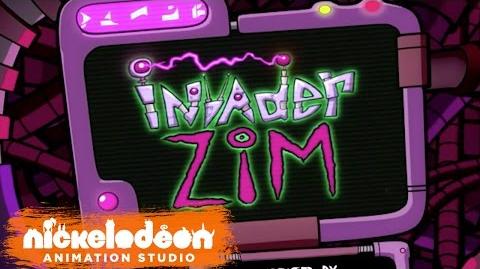 Every episode starts out with a short introduction sequence that quickly explains the plot, followed by Zim daydreaming about taking over the planet. It starts with Zim standing in front of a large crowd of Irkens with a big screen with the word "Invasion" on it. The Almighty Tallest then throw Zim into his Voot Cruiser with GIR in it and send them to Earth. They then show Dib, Gaz, and GIR, quickly followed by Zim covering the entire Earth in pipes/wires and laughing evilly, then revealing that it's only a daydream.
Criticism and controversy
Despite its popularity and continued fanbase, Invader Zim hasn't escaped criticism for its mature tone and dark themes. When Invader Zim was launched, the now-defunct magazine Christian Parenting Today negatively criticized the program in their May 2001 issue (written by Jennifer Mangan) due to the cartoon's dark nature and negative and/or villainous characters, such as Gaz and Ms. Bitters, among other complaints. [3][4]
At his panel at InvaderCON II, Richard Steven Horvitz admitted that his oldest son watched it when he was really young and at first was scared, but now that he's older he understands what happens in the series.
The other factors are high production costs and because Jhonen Vasquez and Nickelodeon fought over certain content. Jhonen has currently not commented about the criticism as of yet. More negative criticism came when the show was cited in the murder trial of Scott Dyleski in 2006.
The prosecution asserted that the defendant had a fascination with images of body parts. They drew attention to comments he had made after watching "Dark Harvest", where Zim collects organs to try and appear more like a human. Witnesses for the defense claimed that the comments were supposedly made in jest. Jhonen has not commented on this, however, at any convention to date.
Legacy
San Diego Comic Con 2020 featured a lively discussion of the franchise's enduring legacy, hosted by Jeff Spry. Participants included: Eric Trueheart (Invader Zim show and comics), Drew Rausch (Invader Zim #41), Aaron Alexovich (Invader Zim show and comics), and Chris McDonnell (The Art of Invader Zim).
"I think it's the audience, it's the people that kept it alive all these years," said Alexovich, who worked as a character designer on the show, "It just tapped into some kind of strange energy back in 2001 and people have kept it going since then." He added that "kid's animation seems to have veered off in a different direction," but that traces of Invader Zim can be felt in more adult offerings like Rick and Morty.
On the subject of catering to an older demographic, Trueheart said that he felt that the unabashed maturity of the content resulted in the property's lasting quality. "We weren't making a kid's show, necessarily," he said. "We were making a show for all the demented sensibilities of us on the staff. I think because of that, it's the show you can discover as a kid and then you come back to it when you're an adult and it's, hopefully, just as entertaining and just as twisted."
Rausch's thoughts on the subject were as follows: "Probably why it's lasted so long is that it's one of those cartoons that you had to really pay attention to, or you missed the joke. There was just so much chaotic energy happening, that if you weren't actively watching it, it went right over your head."
Facts of Doom
According to ChannelFrederator's YouTube video 107 Invader Zim Facts, the initial goal was to have a total of 5 seasons but the show was canceled before the other 3 seasons could have a chance be produced. Even if the series had not been canceled, it's not certain whether they would have reached this goal.[5]
Zim and GIR flying in the Voot Cruiser made a cameo appearance in the now-defunct simulator ride Jimmy Neutron's Nicktoon Blast at Universal Studios Florida.
There is an Invader Zim theme park ride at American Dream's Nickelodeon Universe called Invader Zim's Flip & Spin… OF DOOM! which opened on October 25, 2019, along with the park. The ride is a bumper cars style attraction where riders can spin and flip upside down on impact. The official summary of the ride states "You've been recruited for battle onboard Irk's latest militarized spacecraft. Help Zim's invasion as you flip, spin and bump into poor, unsuspecting humans."
Invader Zim was featured as a clue on the July 29, 2013 episode of "Jeopardy!" The clue was for $2000 under the category "What a Character!" and it read "Irk is the home planet of this title 'invader.'" None of the contestants were able to answer.[6]
In the 2013 animated feature film Escape from Planet Earth, the name "Zim" can be seen written on the floor in graffiti in one brief scene, along with the names of multiple other aliens from various different movies and television shows
In the 2016 short film TMNT: Don vs Raph, which was written by Jhonen Vasquez, a picture of Zim is seen on the side of a building
This is the third Nicktoon to get revived in the form of a TV movie. The first two are Hey Arnold! and Rocko's Modern Life. This is also the first one to be based on a 2000s series.

Zim and Rocko are the only two Nicktoons revivals that are not airing on the actual network, instead premiering on Netflix, with their movies premiering sometime in the Summer of 2019.
It is speculated that because Hey Arnold: The Jungle Movie! under preformed in the ratings, Nickelodeon put both movies in limbo as they were undecided when or where they would premiere until Netflix bought the distribution rights on May 10, 2019.

In 2019, Netflix and Nickelodeon agreed to a multi-year deal to produce original animated shows and feature films for kids and families worldwide. The programming will be based on popular Nickelodeon characters along with new ones, but it remains to be seen if Invader Zim will be a part of the deal.
References