Irken Smeet

Homeworld
Irk
Assignment
To serve the Irken Empire
Rank
Baby
Eye Color
Various colors
First appearance
Parent Teacher Night

Smeet is the term commonly used for Irken children and infants.
It is assumed all modern smeets (with a notable, but short-lived exception) are created underground, in large unnamed facilities on their homeworld of Irk.
Creation
The process in which Irken smeets are produced is never fully specified, but it is widely presumed that it is a process similar or identical to cloning. Many fans assume that the Control Brains assist in the operation of the facilities in which smeets are made, but it has never been confirmed in canon.
Birth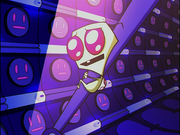 In the episode "Parent Teacher Night" , such a facility is seen in a flashback. Many capsules with a holographic face are inset in a wall, and upon sufficient maturity of the smeet inside, the face turns green and resembles a smile. Then, a machine called "Mr. Plug" unscrews the capsule from the wall, steam (or some other vapor) emitting from the formerly-filled space. This implies that the chambers the capsules sit in are heated, likely to keep the smeet warm before birth.
Following the removal of the capsule, it is broken open, letting the smeet and the fluid inside fall out. Two robot arms swing down, one wielding a presumably unencoded PAK. The PAK is attached in a two-step process where two heated spikes are pressed into the smeet's back, and the PAK being inserted immediately after.
The smeet is then shocked with what is presumably electricity, likely to both jumpstart its PAK and the biological body it is attached to. A robotic voice welcomes the smeet to the world and orders it to report for duty.
Training
Unlike human babies, smeets can speak as soon as they are born, as seen in the depiction of Zim's past in "Parent Teacher Night".
In the cancelled episode "The Trial", it would have been seen that when they're about two minutes old, the supposed whole of Irken knowledge (likely culture, history, geography, and the like) is uploaded to their PAK. It would have also been seen that smeets spend their childhood training in military tactics until they are old enough to be considered adults.
Zim's smeethood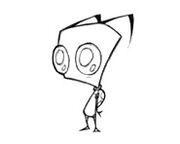 Notably, Zim's first words were, "I love you, cold, unfeeling, robot arm!"
The cancelled episode "The Trial" would've shown more scenes from Zim's smeethood, as well as more on some of the Tallest's past. These flashbacks prove that Zim, Red, and Purple actually trained together, and that Zim has been causing planet-wide chaos since he was literally two minutes old when he caused the first of two decade long blackouts.
Also within the episode, it would have been seen that, upon receiving data in the facility he was born in, Zim complained that he wasn't given enough. It would have also been stated that there were many mistakes in his PAK's programming ("40 schmillion", to be precise), which is likely the reason he is considered defective.
Other Observations
It was mentioned by Zim in "Bolognius Maximus" and "Halloween Spectacular of Spooky Doom" that Irken babies play with toys, like human children. These toys are described as advanced (even more than Professor Membrane's lab technology), but it's unclear what they look like.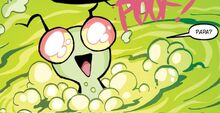 In Issue 7, a smeet that looks similar to Zim was born out of his DNA, the fluid of his Voot Cruiser, and the environment of the formerly lifeless planet. This was the first Irken smeet witnessed being born without the use of cloning. Another notable aspect of this smeet is their lack of a PAK, which could imply that Irkens become dependent on the device upon adulthood. Another explanation is that newborn smeets can survive without a PAK for a short period before ultimately expiring.
Unfortunately, the smeet was killed by the other lifeforms who called the smeet a heretic and "false Zim".
See Also