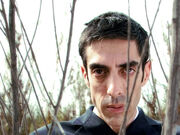 Jean-Paul Bondy supervised the color department, produced all color development for Invader Zim, and directed background and character painters. His other duties included: all color retake sessions, color correction, post-production artwork, main-title sequence and credit layout and design.
About Jean-Paul Bondy
I have been working in TV/Feature animation for 14 years, as an Art Director, Color Director, Background Painter and Visual Development artist.
I take loads of photos of everything that I can, including people, cats, atypical weddings and awesome sunrises. I have a camera with me at all times.
I also make strange sounding electronic music, and have released a bunch of records on various labels you've probably never heard of.
I currently live in Los Angeles, California, but travel frequently and will relocate for the right amount of awesome.
I like to begin paragraphs with "I".
Gallery
References