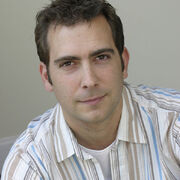 Kevin Manthei is the composer/performer of all of the music from Invader Zim (except for the main title, which was originally composed by Mark Tortorici, and arranged by Manthei), he returned for Invader Zim: Enter the Florpus.
His mentor was the Academy Award-winning music composer Jerry Goldsmith.
Biography
Manthei grew up in Minnesota, and played the piano in his youth and the trumpet in high school. He graduated from the University of Minnesota with a Bachelor of Music degree in Theory and Composition.
He also studied at the University of Southern California under Jerry Goldsmith. Since then, he has collaborated with other graduates of the program, Christophe Beck, Marco Beltrami, and Jon Ehrlich, writing additional music for Beck on the TV series Buffy the Vampire Slayer and other shows, and composing additional music for Beltrami on films including Scream 2, Scream 3, The Faculty, Scary Movie 2 and Resident Evil.
Manthei began his game writing career working on titles such as Panzer General II, Vampire: The Masquerade - Redemption, The Sacrifice, Wizardry 8, Twisted Metal: Black. His other work on video game titles includes Kung Fu Panda, Universe Online, Upshift Strikeracer, Xiaolin Showdown, Ultimate Spider-Man, City of Villains, The Sims 2, StarCraft: Ghost, Shrek 2 and Shark Tale.
For his work on Invader Zim, Manthei received an Annie Award nomination for Outstanding Achievement in Music for an animated series.
Invader Zim also led to Xiaolin Showdown for Warner Brothers Animation as well as Brandy & Mr. Whiskers for Disney. In scoring with Warner Brothers' television series Johnny Test, he wrote the emo/punk-inspired main title and score to the first season.
Manthei has also worked on scores for independent filmmakers such as The 24th Day. He has recently written the music for the feature films Justice League: The New Frontier and Batman: Gotham Knight.
See also
External Links
[wikipedia:Kevin Manthei|Wikipedia]