Meekrob (species)
Homeworld

Meekrob (planet)

Skin

In their natural state, they vaguely resemble floating sets of lungs with tentacles

Eyes

Cyan

Notable Facts

Beings of pure energy

[Source]

The Meekrob are an ethereal alien species native to the planet of the same name, which Invader Tenn was assigned to conquer as part of Operation Impending Doom II.
However, in the episode "Megadoomer", Tenn's base was destroyed because of a package of malfunctioning SIR Units that were delivered to her, which were originally supposed to go to Zim. The Tallest did not seem to care at all when Tenn called them for help, and simply allowed her base to get obliterated, thus ruining her mission.
The Meekrob are mysterious, ethereal, highly intelligent beings of pure energy, which would presumably make it extremely difficult for Tenn and her SIR Unit to create convincing disguises.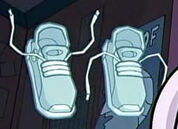 The Meekrob are the sworn enemies of the Irken Empire. They are highly intelligent and can change their form at will. In their natural state, they look vaguely like floating sets of lungs with tentacles. 
The Meekrob are mentioned in "Megadoomer", and make their only appearance in "Dib's Wonderful Life of Doom", although they only appear in this episode as an illusion created by Zim to find out if he threw a muffin at him. 
Facts of Doom
Community content is available under
CC-BY-SA
unless otherwise noted.