Mr. Wiener Face is a customized wiener product that appears in Issue 33 of the comic series.
Summary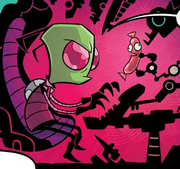 When the Conglamo corporation holds an innovation fair at the Skool, with the winner slated to have their creation mass-produced and sold around the country, Zim sees it as an opportunity to advance one of his plans. Unfortunately for him, whatever device he creates for the fair is replaced by GIR with his own creation, a wiener with a carved mouth and glued-on googly eyes that he calls Mr. Wiener Face.
To Zim's surprise, Congalmo's robotic CEO Conglamatron loves Mr. Wiener Face, declaring it the winner of the fair. As the company puts Mr. Wiener Face into mass production, Zim begins desperately searching for a way to use the wieners to conquer Earth with. Meanwhile, Dib - who is unaware that Mr. Wiener Face wasn't Zim's original plan - just as desperately tries to figure out what Zim is up to.
Eventually, as the day of Mr. Wiener Face's release arrives, Zim is ready to give up, having failed to come up with a use for the wieners. Then Dib arrives, having determined that Zim is planning on making people so obsessed with buying Mr. Wiener Face that they collapse the economy. Zim quickly seizes on this idea, pretending that it was his all along, and he prepares to put it into motion with the product launch.
However, Mr. Wiener Face quickly fails to sale, as people mistake it for food and are disgusted by the taste. This leads to a recall that bankrupts Conglamo, leaving Zim with tons of useless wieners.
Facts of Doom
Mr. Wiener Face briefly appears again in Issue 49. During the flashback to Zim choking on styrofoam packing peanuts, a box containing several copies of Mr. Wiener Face can be seen off to the side.