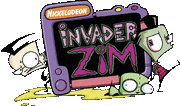 Palisades Toys was the company responsible for manufacturing the first line of Invader Zim action figures in the mid 2000s. The company was founded in 1994 and specialised in producing higher quality toys, figures, and collectables for mature collectors and was known for their dedication to detail and overall quality, as well as working closely with the collector community. The website forum & message board frequently asked for feedback from fans and held polls, in many cases hiring sculptors from within the series' fanbase, and crediting sculptors and contributors on the packaging of the finished product.
They created over 10 figurines for Invader Zim, with numerous accessories and bonus items, including two different figure sets and a handful of show exclusives. However, one of their flagship lines was The Muppet Show, other note worthy line include Star Trek, Ren And Stimpy, Fairly Oddparents, and The Simpsons. The company began in 1994, and it is currently defunct as of 2006, after 12 years of business operations.
While the company placed an emphasis on goodwill between them and their customers, they suffered a major blow to their PR in late 2002 with the troubled release of their Micronauts line, when the company was defrauded by their middleman who had falsified reports of the set's production, while having it handled by a cheaper factory without proper quality control and pocketing the difference. The situation was made all the more difficult by a worker strike delaying shipping, and only being able to respond to complaints about the quality by replacing it with more potentially defective merchandise from the same production run, as well as the troubled pre production phase where they did not receive the original molds as expected and instead had to reach out to the fanbase for help re-creating the originals. Although a re-issue of an improved release of series 1 along with a series 2 redeemed the company in the eyes of their fans, the incident had a negative impact on retailer interest.
Though they maintained a significant presence at industry events such as Wizard World Dallas and Toy Fair until their penultimate year in business, it was ultimately decreased interest from retailers combined with the low profit margin their business model operated on (high quality at a lower price than competitors, often catering to more niche fanbases) that caused the company to go out of business. While the two initial Invader Zim figure series had been released by this time, the company closed down during production on the Voot Runner statue, resulting in a decreased run size.