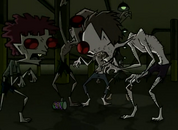 The Rat People are a group of mutated humans who live in the parking structure of the City Center Mall.
Summary
In "Game Slave 2", when Gaz gets angry at Dib for causing her to be late for the release of the new Game Slave model at the Mall, she gets revenge by tricking him into thinking that she saw a chupacabra running into the building's parking garage. Despite slightly questioning why one would be there, Dib runs off to chase the "chupacabra" and soon gets hopelessly lost in the massive garage.
Eventually, Dib runs across a group of people who also got lost in the garage and have been stuck there so long that they've become rat-like and feral. They warn that Dib will soon be like them, however almost immediately after this encounter he finds an exit and leaves the garage.
As they never appear again after this episode, it's unknown what became of the rat people, but they are presumably still living in the garage.
Facts of Doom
Despite the similar names and similar appearances, they should not be confused with the Slaughtering Rat People of planet Blorch. Though interestingly, and maybe a possible foreshadowing, both species were ultimately doomed as a result of a parking lot.
Dib is skeptical that the rat people could be so horribly mutated simply by being lost in the garage. However, as no other explanation is ever given, the exact cause remains a mystery.