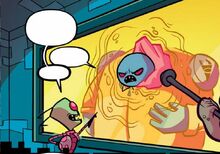 In Issue 34, Zim had an alien that resembles Sizz-Lorr imprisoned in Moo-Ping 10, possibly as revenge for the events of "The Frycook What Came from All That Space".
However, he apparently didn't notice (or care) that the alien wasn't even an Irken, as evidenced by the fact his skin is the wrong color, or the fact that he had no PAK or antennae, but oddly enough had the Invader logo on his shoulders like Sizz-Lorr did.
Facts of Doom
The Sizz-Lorr look alike was going to reveal his name but Zim interrupted him.
The Invader logo on the alien was possibly an "in joke", since in the commentary for "The Frycook What Came From All That Space", Jhonen Vasquez stated that Sizz-Lorr isn't an Invader and therefore he shouldn't have had the one eyed Irken Logo on both his shoulder pads or his ship. That error in animation was possibly intentionally and subtly referenced here, since the Sizz-Lorr Look Alike is not even an Irken, let alone an Invader.