The Darkness of Th'Gol is an an ancient evil entity that appears in the first quarterly of the comic series.
Summary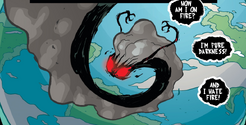 A massive shadowy figure, little is known about the Darkness of Th'Gol. What is known is that it's a mass of living darkness that feeds on living creatures by devouring them whole, and is driven by a desire to consume all life.
Thousands of years ago, it was somehow sealed away within a shrine on the moon, locked under a complex mathematical mechanism and guarded over by a pair of sentient statutes until such time that a pair of sacred custodians would come and carry away into the void.
By sheer happenstance, GIR happened to land on the moon and end up near the shrine. Due to not understanding what they're talking about, he convinces the shrine guardians that he and the cyborg beaver he's carrying are the custodians. He then also manages to unlock the shrine by treating the locking mechanism as a dance game and beating it, freeing the Darkness.
Once out of the shrine, the Darkness swallows GIR and the beaver, before heading towards Earth to devours all life on it. However, GIR lights a fire within the Darkness in order to cook marshmallows, inadvertently causing the Darkness harm. Disoriented from pain, it ends up crashing into a coal mine, causing a cave-in.
While GIR escapes from the mine, it turns out that the Darkness was still alive and left behind, along with the beaver, which refuses to share any marshmallows with it.