The Medium-Sized Book of Zim Scripts: Vol 1: Pigs 'n' Waffles is a book written by Eric Trueheart, one of the writers of Invader Zim. It was released digitally on April 2nd, 2020, with a printed release on July 27, 2020.
As the title suggests, the book has several behind the scenes stories about the show, along with several scripts that were written by Trueheart alone:
Trueheart talks about premises for episodes as well, including a few that never made it into production: "Zim Choabs Foo", "Plastimart Rising", "Squishy: Hugger of Worlds", and one (of many versions, which are mentioned but not included) for "GIR's Big Day."
There is also a 'FANS Q&A' section at the end of the book where Eric answers some questions he received on Twitter.
Facts of Doom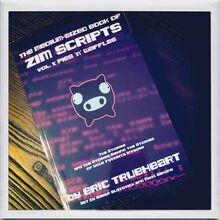 On March 19th, 2020, Eric Trueheart tweeted the existence of this book.
The name "Pigs 'n' Waffles" is a clear reference to "Bad, Bad Rubber Piggy" and "Zim Eats Waffles", two episodes that were written by Trueheart.
The art was done by Aaron Alexovich and Rikki Simons. The book also includes a foreword by Simons.
This being 'Volume 1' seems to suggest that more volumes could be released in the future. Trueheart also makes a comment that, if the book is successful, he might "release a sequel with scripts [he] co-wrote with others", such as "Tak: The Hideous New Girl."
While discussing the script for "Bad, Bad Rubber Piggy", Trueheart mentions the Zim Wiki directly to debunk a claim regarding the name of Walton Chunky. He then makes the observation that "The Invader ZIM fandom wiki is a wonderful labor of love by some very dedicated people, but it's wrong at least 25% of the time." and expresses his frustration over the fact there's already so much misinformation about the show in general.

In order to clear up any remaining misinformation regarding the episodes presented in the book, Trueheart establishes a 'THINGS THE ZIM WIKI GETS WRONG' section after each of his scripts (usually debunking claims of pop culture references) and makes two other mentions of this wiki in a similar fashion.

Eric Trueheart's favorite observation from the Zim Wiki is "It's revealed that crying makes Dib uncomfortable".
In the 'FANS Q&A' section of the book, Trueheart tries to debunk numerous rumors, including the ones about the so-called TV movie "Invader Dib." "There was no planned ending", he claims. "Sorry, kids, this rumor is not true. There were never any plans for "Invader Dib."" and reiterates this in an attempt to "stomp [the] irritating rumor into the ground".

He then reveals that the title of the show originally had a colon in it (Invader: ZIM, before Nickelodeon wisely changed it), so the crew formed their own inside joke about a possible theatrical movie where Dib went to Irk -- but only for the sole purpose of titling it Invader: ZIM: The Movie: Invader: Dib. "But that was as far as "Invader Dib" ever got: a throwaway colon joke we made up to keep ourselves amused."
Trueheart also goes on to debunk the idea of a movie in general back then, claiming "No. I'm afraid there was nothing. Nobody proposed a movie. There wasn't even an idea for one. There was no script. No art." and so on.