Vote for Zim or I'll destroy you!
— Zim

"The Voting of the Doomed" is the 2nd segment in the 4th episode of the second season of Invader Zim. It first premiered on December 21, 2003 in Australia. In the United States, it was first released as part of the Horrible Holiday Cheer DVD on October 12, 2004 and it made its TV debut on Nicktoons on July 22, 2006.
Plot Summary
SPOILER WARNING OF DOOM: This section or article may contain spoilers!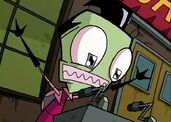 When the Skool President has a mental breakdown after not displaying enough Skool spirit, a new President needs to be elected.
Zim immediately jumps at the chance for power, and becomes the first candidate as he is analyzed as a moron but suitable (even Gaz supports him). Dib objects, as Zim is "criminally insane," but he's deemed annoying and ignored.
Instead, Willy, an extremely unintelligent Skoolchild, becomes the other candidate as he is analyzed as "leadership material." The first debate of the campaign ends in a victory for Zim after he promises the Skoolchildren ridiculous things if elected while Willy just babbles incoherently.
To give Earth a fighting chance, Dib becomes Willy's campaign manager. During the final debate, it starts off well for Zim, but Willy makes a comeback because of the words fed to him by Dib through a communicator.
When the votes are officially counted, Willy is declared the next Skool President. However, Zim has the last laugh in the end, because the Skool Principal and The Board brainwash Willy to become their puppet, a fate that Zim has now escaped, thanks to Dib.
End of Spoilers: There are no further spoilers for this section or article. You can breathe now.
Facts of Doom
Cultural References
Trivia
Things You Might Have Missed
Animation Errors
See also
References