She never looked nice. She looked like art, and art wasn't supposed to look nice; it was supposed to make you feel something.
— Eleanor & Park, Rainbow Rowell
Blossomofdeath

*PLACE THE PRODUCT OF YOUR IMAGINATION HERE*

Homeworld
Earth
Assignment
Many
Rank
Sysop (Administrator)
Gender
Female
Equipment
Computer
Affiliation(s)
• Image Squad
• Universal Expansion Squad
• Grammar Squad
• Project G.I.R
Notable facts
Is a Closet Wikian
First appearance
21:00, August 31, 2012 (UTC)
Welcome to my userpage. I'm an active editor on this wiki, and I'm usually partolling the wiki, uploading files, working on articles or just clicking the random link. If you need/want to talk to me (or request something), don't hesitate to ask me or another admin/rollbacker. I speak French, so If you're more comfortable speaking to me in that language, feel free to.
I don't bite, the exclamation mark is on vacation.
To message me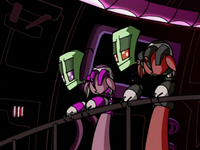 Wanna talk to me? Go to my
talkpage
leave a message. You can also
email
me as an option. In there rare event you see me in
chat
, you can instant-message me there.
Behind the monitor, I'm just another kindasorta insensitive teenager with internet connection. I have a thing for simplicity, so I tend to shy away from over decorating an article, which I feel helps keep it organized, though I do sometimes contradict this statement when it comes to sentence detail. My editor way is "quality over quantity" (nope not a Naruto reference nope).
I'm also an avid fan of shōnen manga/anime, which is how I usually spend my free time.
These two boxes are basically here so I can keep track of what I have been/am doing and so that curious people can know too.
HIGH PRIORITY
Make the wiki's disclaimer templates less plain (group effort with User:Dr. Anonymous1)
Aid in expanding the wiki's rules for ensured harmony
Add location infoboxes to their proper page
MEDIUM PRIORITY
Convert Irken Invader Profile images to .png, with transparent background
Make sure all images on episode pages are above their corresponding paragraphs, re-sized, and captioned.
Finish all needed infoboxes for the wiki
Clean up Zim's Base
LOW PRIORITY
CONTINUOUS
Add interlanguage links
Replace low quality images (Image Squad effort)
CREATING, CLEANING, ILLUSTRATING AND EXPANDING
MEDIAWIKI
OTHER
Removed quotes from Episode pages
Added navigation templates and fixed source formatting to transcript pages
Taken over ZimFan's job; Turn all screenshot pages into image galleries
Made monitors for the wiki's home page
Made sure that all Original Pilot Screenshots have no black borders
Added proper navigation templates for all articles on Irken Vessels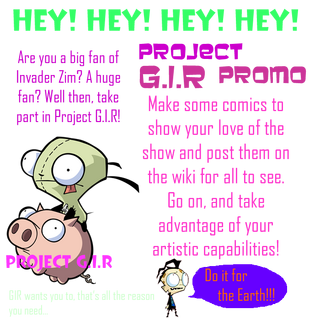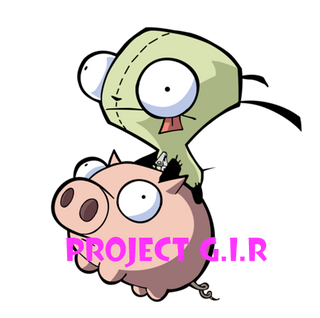 This isn't all of it, but you don't need to see everything.
---
Basic
---
---
How I view this wiki
---
Community content is available under
CC-BY-SA
unless otherwise noted.