About me
Hey what's up. My name is Olivia, and I'm an admin/bureaucrat here. And yes, you may call me Olivia.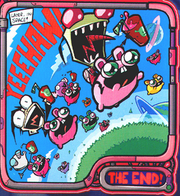 I specialize in fixing the writing here. If there's a poorly written article out there you can be sure I'll be rewriting it. I also add photos sometimes and fix formatting.
Gosh diddly darn I sure do like Invader Zim. I can also be seen once in a blue moon on the wikis for Doctor Who, Adventure Time, and MS Paint Adventures. But you can see that above.
Cats are cool and sometimes I cosplay. The rest of the time I idle on tumblr and drink half my volume in coke.
I have been told before that I'm intimidating but there's really nothing about me that's "scary." If you need help around here please please do not be afraid to talk to me or one of the other admins.
Community content is available under
CC-BY-SA
unless otherwise noted.