Wiki Friends
POSSIBLY YOU CONTACT ME AND I AM SURE WE WILL BE THE BESTEST OF FRIENDS
my actual self
On boy where do I begin... Well I am. 1. An invader zim fan (duh) 2. A whovian (a fan of doctor who) 3. A genuis 4. Not modest 5. Canadian and proud (we do say eh a lot in case you were wondering, but we don't pronounce about "aboot") 6. A bit of a nerd (o.k maybe a huge nerd, but who cares)
Things I like
1. Invader Zim (obviously)
2. Doctor Who
3. Nintendo And Sony (sorry Microsoft fans)
4. Hockey
5. Myself
6. Creativity
7. Portal 2. BEST VIDEO GAME EVAH!!!!!!!!!!!!
8. Godzilla lore
9. Creativity
Things I hate
1. CALL OF DUTY. I CANT STAND THE STUPID THING. IT NEEDS TO BURN FOR ALL ETERNITY.
2. People who don't respect my opinions
3. The Washington capitals
4. The idiot who had the idea to cancel invader zim
members
Dr. Anomynous1
Blossom of death
mudkippower1
Zimfan
NyanGirToastNinjaShadow
NutterButter12
GOALS
1 to become an admin #complete
2 to make project gir world wide famous
3 to get back the worlds best show INVADER ZIM
4 to conquer earth I MEEN TO HELP EARTH EARTH IS GREAT YOUR LYING!!!!!!! #complete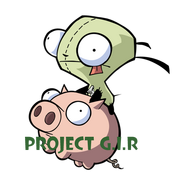 join now
HEY PITIFUL DIRT HU-MAN JOIN PROJECTGIR MAKE COMICS AND STUFF. TELL ME IF YOU WANT TO JOIN. (Thanks to blossomofdeath for the logo.)(note: Project Gir is a fanclub, and a revival team.)
Community content is available under
CC-BY-SA
unless otherwise noted.