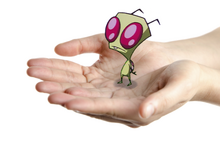 My name is Indrid (Or Ghost, whichever you prefer), and I'm in my twenties. I've liked Invader Zim since I can remember. I'll be here to check spelling, resolve grammar or factual errors, and supplement information.
I don't have many fandoms that I stick to, besides IZ. I do have hobbies, though. I like pigeons, animation, speculative biology illustration, and miniature models.
Miscellaneous Facts About This User:
I'm gay for Professor Membrane. Yes, I have terrible taste. I just have a soft spot for mad scientists.
My favorite breed of pigeon is the Old Dutch Capuchine.
In my opinion, Saucer Morons is the best episode of Invader Zim.
Community content is available under
CC-BY-SA
unless otherwise noted.