Zim's movable throne is, as the name suggests, a throne capable of movement that appeared in Invader Zim: Enter the Florpus.
Summary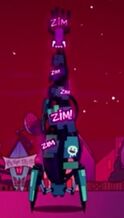 The throne was surprisingly made by GIR at Zim's request, as not only a form of transportation but also as a possible symbol of his (brief) conquest of Earth as he succesfully teleported the planet in the path of the Irken Armada.
The throne has Zim's name in all caps all over it as well as a smiley face. Aside from being able to move without any form of visual remote control, the throne is also capable of releasing "cool flames" from the top as well as peanuts, added by GIR.
Zim enjoyed using the throne to lord over the humans but it was ultimately destroyed by Dib when he crashed back into Earth upon his return from Moo-Ping 10.
Facts of Doom