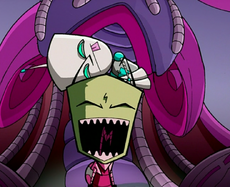 Despite being blatantly disobedient and often a hindrance to the mission, Zim harbours a strange tolerance for his faulty SIR Unit named GIR.
Typical of Zim's egotistical and narcissistic character, he declares his dislike of GIR openly and often, knowing that not only will GIR disregard everything he says, but that he probably won't understand him anyway. Zim's general dislike of GIR most likely originates from his erratic behavior and lack of obedience to his orders, though it is very rare that Zim actually seems to be angry with his SIR Unit.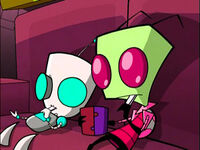 Occasionally, Zim interacts with GIR as one would with a younger sibling, or a parent with a naughty child. As much as GIR can annoy Zim, he occasionally displays affection towards the little robot through his surprising tolerance and acknowledgement of his robot's feelings, and occasionally watching movies and TV with him. Despite being faulty, GIR has always made his love for Zim all too clear, often demonstrating it in some overenthusiastic manner that frequently warrants unheeded discipline from his master.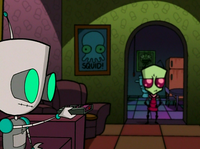 GIR couldn't care less about his master's mission (even though it should be his as well) and often opts out of obeying Zim's orders. This insinuating that unlike most SIR Units, which are designed to obey every command, GIR can usually choose whether or not to obey. That being said, Zim often tries to steer his henchman in the right direction, stating it is for the good of the mission. GIR simply counters this with attempts to persuade Zim to relax and have fun every once in a while, despite Zim's frequent refusals to do anything but try to conquer Earth and defeat Dib.
Despite his master's harshness, stubborn nature, and reluctance to have fun with him, GIR is genuinely cheerful and seems to have the mindset that so long as his master is happy, so is he. Which often leads to misguided attempts to make Zim happy, most of which go hilariously wrong. Sometimes he bends Zim to his own will, which allows GIR to get away with some of his antics.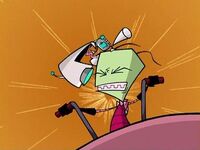 However, their bonds of loyalty to each other are not always strong. In "Nubs of Doom", Zim tried to rid himself of his SIR Unit by replacing him with a new assistant named Minimoose. Although this plan does not go smoothly, Zim does tell GIR that he is "horrible". GIR, however, is not upset by this insult.
Some of the ways that Zim interacts with GIR may be partially explained by the concept of Irken defectives. GIR's non-standard behaviour may be familiar to Zim, leading to his general lenience.
Their relationship can be seen in almost every episode, however a few have critical points in their development:
See also
Community content is available under
CC-BY-SA
unless otherwise noted.